The process I use to design websites for clients is taken from Web ReDesign 2.0, Workflow That Works. This process was created by web design professionals who researched the most efficient methods of managing the design process of a new or re-designed website.
The Discovery Process
To begin the process of designing a new or re-designed site, I extensively interview the client to fully understand the goals or objectives of the site.
I ask questions about the audience, the desired look and feel of the new site, the content (both images and text) of the site, the technical specifications, and much more.
Click the image to view the example for a list of typical questions.
Information Design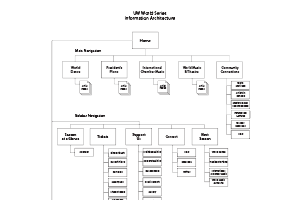 In the information design phase I construct the information architecture diagram of the future website. The information architecture illustrates the site hierarchical layout of the top and primary level pages.
This diagram is similar to a company's organizational chart with the home page at the top and then each linked page underneath branching out like a family tree.
Click the image to to see an example of an information architecture diagram.
Content Design
During the content design phase, I create wireframes, or storyboards, that illustrate the major content and image placement, primary and secondary navigation and possible functionality.
The page elements are placed in a rough layout that serves as a template for later use in the production process. Wireframes include the representation of all the major elements on each unique page.
Click the image to see an example of wireframe illustrations.
Visual Design
The visual design phase is where color and images come to play. I create the visual design over the wireframe foundation by adding the color scheme and placing any text, art or photographs in the layout.
This is the first glimpse of what the site will look like online. The colors, fonts, art and/or photographs are strategically chosen to reflect the desired look and feel for the website.
Click the image to see an example of visual designs.
Production & Development
Once the visual design is approved by the client, I enter into the production phase. I build the site using HTML, CSS and possibly PHP and JavaScript, depending on the technical specifications. The pages are coded to the W3C HTML and CSS coding standards.
I create a custom WordPress theme and include any plugins that add the desired functionality of the site. Click the image to view an example of a WordPress development site.
Copy content is added and the site is optimized for search engines. Once the production and development is completed, the site is thoroughly tested for bugs and errors.
Launch
The newly designed or re-designed site is officially launched on the client's web hosting site. Please view the example of a site launched on a client's web hosting site.